Best of DragonBall Z Volume VI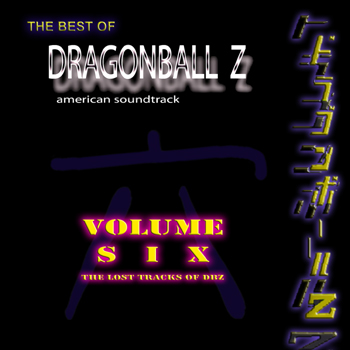 Well here it is: Roku for Goku! That's "six" translated into Japanese, but we packed in over 60 minutes (71!) of music into this collector's Volume; these are the Lost Tracks of DBZ!
I've been busy on other new and exciting anime projects lately! Check out my sound design on the newly released animated feature movie, "LADY DEATH". Also coming soon will be my music and sound for the animated films for D7 Nightfall and other Dementia 7 Studios film projects. Very cool stuff! I don't usually repeat myself, but in my appreciation of you, the fans of DragonBall Z and my music, I have to say this again! DragonBall Z rocks and you rule! Your power levels have made DragonBall Z rise to it's place in TV history, being one of the very few shows dominating the competition to reach the pinnacle of being a number one show on Cartoon Network as well as all Cable TV Networks.
KAMEHAMEHA!!! … and thanks again to all of you.

DBZ FANS ROCK!


Track List

1. CELL YELLS
2. CELL'S SLOW THEME
3. CELL KILLS MAN
4. CELL DESTROYS ISLAND
5. GOHAN VS. CELL
6. CELL KILLS GUNMAN
7. IT'S UP TO DENDE
8. VEGETA SNOOZES
9. RACE AND CRASH
10. FIGHT HITS
11. VEGETA'S VISION
12. VEGETA'S IN SPACE
13. VEGETA FIGHTS FRIEZA
14. GOKU AND SHENRON
15. PICCOLO VS. FRIEZA
16. BULMA AND THE FROG
17. BULMA AND BUBBLES
18. FARM DESTRUCTION
19. GARLIC TRANSFORMATION
20. CRAZY FIGHT
21. FINDING THE CAPSULE
22. BOOGIEMAN
23. GOHAN MEETS MR. SHU
24. GOHAN AND CHICHI ARGUE
25. CHICHI MISSION
26. INDUSTRIAL
27. GOKU IS FALLING
28. KRILLIN POWERS UP
29. GOKU VS. CATERPILLAR
30. MARON LEAVES
31. HOLY WATER
32. GOHAN SSJ
33. GOHAN'S SACK
34. GOHAN HITS TREE
35. TRUNKS TELLS HIS STORY
36. TRUNKS POWER-UP
37. POWER MUSIC
38. KORIN'S DINNER
39. HELL THEME
40. SHARPNER RUNS
41. HEALING
42. GROUP WATCHES
43. HERCULE IN NIGHTCLUB
44. TRUNKS HITS HERCULE
45. TRUNKS TAKES MASK
46. MAJINS ABSORB GOHAN
47. FLUTE AND STRINGS
48. MM SPLITS
49. HERCULE ARRIVES
50. HERCULE TALKS WITH TRUNKS
51. CAKE FACTORY
52. Z-FIGHTERS PATHÉTIQUE