Best of DragonBall Z Volume lII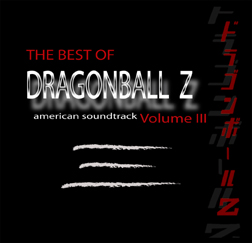 Well, a single drop may just raise the ocean! And the flood of email, letters, and calls continues to forge the DBZ power into this Volume 3 of the Best of DragonBall Z. I appreciate all of you out there who are enjoying my American Soundtracks.
Here are some more of your favorites from the epic saga of DragonBall Z. Listening to the affable strongman's Wrestling Rock (he's the braggadocios Earthling with the Dark curly hair) reminds of the character growth he goes through. One minute he's a jerk, the next he's a great guy just trying to help out the world. You've got to like him for trying.
Bikers, Androids, young Trunks and Goten, Gohan, Goku, Vegeta, and many others make a cameo appearance in this CD of your favorites. From the zany to the powerful, there's lots of action packed into these tracks. It's DragonBall Z!
Track List
1. WRESTLING ROCK WITH LEAD [1:02]
2. FRIEZA BASE [1:52]
3. TRUNKS APPEARS [0:56]
4. TRUNKS POWERUP [0:38]
5. PERFECT CELL THEME [0:42]
6. DROIDS VS. BIKERS [5:51]
7. YAMCHA MEETS DROIDS [2:03]
8. COUNTRY STORE [1:39]
9. GRAND KAI BLUES [1:15]
10. GRAND KAI ROCKS [1:28]
11. OX KING CONSOLES [0:46]
12. TRUCKIN' 2 [0:49]
13. UNDERWATER [1:44]
14. KAME SAD [1:10]
15. KAME TOUGH [0:59]
16. ARISTOCRATIC BRITISH [0:21]
17. AEROBICS [0:56]
18. SAGE MUSIC [1:23]
19. GOHAN ANGERS 2 [0:35]
20. GOHAN ANGERS [1:12]
21. CELL JUNIORS THEME [1:03]
22. VEGETA KNOWS HIS SON [0:54]
23. GOHAN ON FILM [3:26]
24. GOKU DIES [0:52]
25. LONG FLASHBACK [7:12]
26. GOHAN POWERS UP [2:34]
27. MUSHROOM MARCH [0:53]
28. FLIGHT TRAINING [5:11]
29. TRUNKS AND GOTEN [1:43]
30. VIDEL GETS HIT [1:33]
31. VIDEL GETS UP [1:51]
32. MYSTERIOUS B [0:48]
33. VIDEL PLUMMETS [0:56]
34. TRUNKS AND GOTEN SPAR [0:54]
35. 18 AND MIGHTY MASK STANDOFF [1:04]
36. DOUBLER'S PRELUDE [0:59]
37. GOHAN VS. DOUBLER [0:39]
38. GOHAN VS. DOUBLER II [1:25]
39. VEGETA'S RED POWER [1:47]
40. PRE-BUU [1:19]