Trunks Compendium I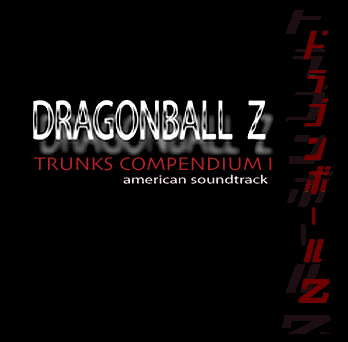 Trunks has become one of my favorite characters in the process of doing the show music. I really like how far he will go to meet the challenges before him. He'll even travel across time and space to help out. He's not afraid to try hard when success seems impossible. Don't we all need that kind of friend once in a while?
I think a lot of you like Trunks, too, because many of you have asked about his music. This CD is a musical journey through some of my favorite pieces in the Trunks Sagas. The pieces are drawn from different episodes of his sagas, and I have combined them into a musical adventure for you.
As a special bonus track, I have also included the actual complete soundtrack for episode #120, "Another Super Saiyan." This is the episode where Frieza and his father, King Cold, come back to take revenge on the Earth and the mysterious young fighter, Trunks, shows up to thwart their evil challenges.
You have also asked me about your other favorite characters music as well, so I've been listening to you and I plan to release CDs with your favorite music tracks. The next CD will be the second volume of the Best of DragonBall Z soundtracks. If the character CDs are popular, I will release more of them, too.
I'm also writing original songs for release this year, with lyrics in English and the works! I am trying to keep those under wraps so I can release them all together in one CD collection; the anticipation! I may spirit bomb that idea. Somebody hand me a sensu bean.
Track List
1. MYSTERIOUS YOUTH [1:13]
2. PRELUDE TO CONFLICT [1:28]
3. PRINCE OF SAIYANS [3:36]
4. THE EYES AND THE SWORD [0:44]
5. BATTLE PREPARATIONS [0:41]
6. PALACE IN THE CLOUDS [0:34]
7. TRAINING [1:04]
8. RACE TO THE ISLAND [1:30]
9. TRUNKS MEETS GOKU [0:25]
10. TRUNKS STORY [2:47]
11. TIME CHAMBER [1:09]
12. ANDROIDS [0:41]
13. YOUR FIGHTING THE WRONG ANDROIDS [0:53]
14. ANDROID BATTLE [0:57]
15. MYSTERIOUS YOUTH REVEALED [1:05]
16. HOME SWEET HOME [0:52]
17. BACK AT THE LAB [1:28]
18. 400 Gs [1:00]
19. SSJ TRUNKS [0:56]
20. TRUNKS VS. CELL [1:01]
21. A LITTLE HELP FROM A FRIEND [1:55]
22.THE SAGA CONTINUES [1:20]

BONUS TRACKS
23. DBZ EPISODE #120 part I [9:37]
24. DBZ EPISODE #120 part II [11:49]